A New Year, A New Set of Trends on Social Media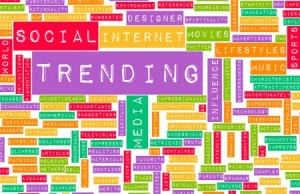 The world of social media continues to become more integrated, influential and important with each passing year. As 2019 now approaches, brands are asking themselves what they can do to ensure their social media efforts continue to deliver results. At any given time, there are emerging trends and concepts that can affect how businesses and brands interact with their audiences.
Whether your brand is using Facebook, Snapchat, Instagram or Twitter, being aware of how the proverbial ground is shifting is a requirement for success. Today, we'll take a look at what trends and developments you can expect to become more prominent in the new year.
Direct Communication with Users
Regardless of the platform(s) you're using, 2019 is set to be a big year for direct messaging and personal outreach. Brands that ensure prompt and thorough communication is available between fans and their pages stand to benefit, whether it be through Facebook Messenger or Twitter DMs. To better facilitate this communication, an increasing number of brands are using chat bots for the purpose of pinging links and pre-written responses to users based on their questions and concerns. Whichever route you decide to take is up to you, but know that – especially in niches with lots of competition – this form of communication can make a big difference.
More Ad Spending
Your competitors are looking for every advantage possible: why shouldn't you? One of the emerging trends for the new year is an increase in ad spending, which is making it even more difficult for brands who don't advertise on social media. As more and more campaigns are deployed, an arms race of sorts is forming: brands have to spend more to maintain the same level of visibility as they enjoyed before, while brands that spend none see their visibility become even less substantial. As such, make sure that you're planning in advance for effective social media ad campaigns – and ensure you have enough budget set aside to ensure you don't lose ground to the competition in 2019.
Live Streaming
As media-rich content continues to become the rule rather than the exception, social media is also feeling the pressure. While videos and podcasts remain valuable forms of content for social media promotion, the concept of live streaming continues to gain traction. Since most social media platforms have made it easy and seamless to begin streaming content live, more and more brands are taking advantage of the feature. This form of content tends to attract more attention than the standard video in real time, yet provides the same benefits as traditional videos by remaining on your channel or page long after the stream has ended. In short, there's little reason not to embrace live streaming in the new year.
Every year presents new opportunities, features and trends in the world of social media. Pinging links to live streams, more ad spending and more person-to-person communication are emerging trends for 2019, and embracing them can help ensure that your pages and presences on social media remain effective and endearing.